Climate Control Rental Units Ready for Any Occasion
Yancey specializes in quality temperature equipment designed to keep your crew comfortable indoors and outdoors. Whether you have a specialized business with advanced air conditioning and heating needs or require portable temperature regulation for temporary events at a moment's notice, we supply a full range of advanced equipment that keep you comfortable and keeps your business on track.
Rent Temperature Control Units Now
Here are just some solutions that can benefit from Yancey temperature control rental units.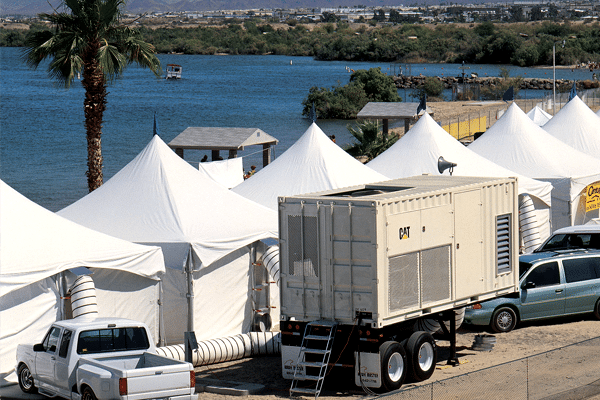 Entertainment
Georgia is known for its strong entertainment and film industry and keeping production crews comfortable is part of what makes this location work. Film sets must be adequately regulated for long days of shooting. Yancey products provide the quality temperature regulation needed, supplying air conditioners, climate control, air handlers, fans, and more.
Systems such as our 120-ton air handler are especially quiet, making it an ideal solution on movie and TV sets.
Special Events
Comfort isn't limited to indoors. We also supply equipment for tent events, festivals, and other special occasions to help beat the heat and the cold, creating a more comfortable atmosphere to help make the most of your time outdoors. Choose from a wide range of portable coolers and heaters, such as our 400K BTU indirect fired heater for those extra cold nights.
Construction & Restoration
Whether it be a full build or a restoration project, construction sites are regularly open to the elements and may not have insulation. This makes work conditions particularly difficult. By providing the needed portable cooling or heating, crews stay comfortable and maintain adequate productivity to keep construction on time and on budget. This includes systems such as fire heaters and air scrubbers that work in tight spaces.
Data & Technology
Cooling is particularly important in the tech world. Servers generate an immense amount of heat, which can leave to overheating if not regulated and result in mass data loss and a shortened equipment life.
A lot is riding on your technology, so it's important to control the climate and ensure heat, humidity, and airflow are ideal for maximum performance, life, and security. We offer units ranging from 1-ton to 30 tons to work with any size business.
Planned and Unplanned Shutdowns
Having a climate control plan for shutdowns ensures a comfortable work environment for you and your staff, preventing employees from overheating while maintaining maximum productivity. We offer a full range of portable solutions to keep you comfortable when a planned shutdown occurs.
This also includes unexpected shutdowns. We offer a full range of climate control systems for when a disaster strikes, saving you substantial time and money by getting your business back on track. Choose from heating or cooling systems or systems that supply both, such as our 5- and 30-ton portable heating and cooling systems.
Whether you are a large organization or small, or your temperature needs are temporary or long-term, Yancey offers powerful temperature regulation that keeps you, your employees, and guests comfortable at a quality you would expect from Caterpillar. Contact us to learn more about our portable cooling and heating systems.