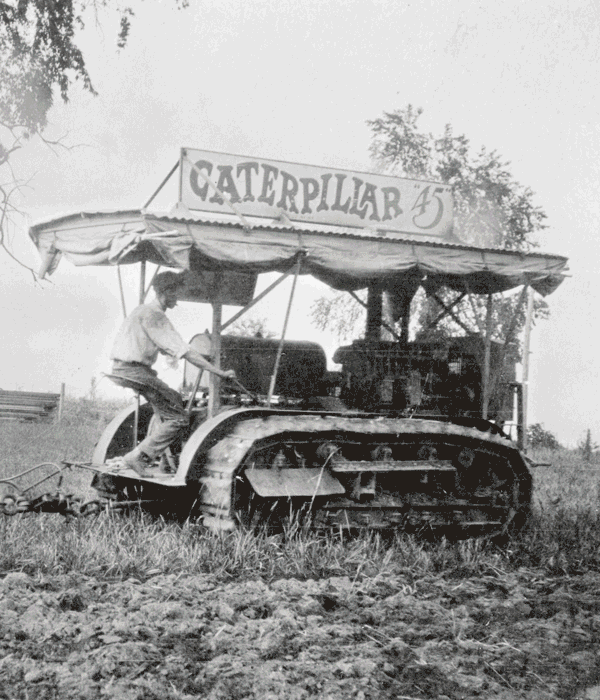 The History of Yancey Bros. Co.
Founded in 1914 by brothers Goodloe and Earle Yancey, Yancey Bros. Co. began as the Yancey Hardware Company, selling hardware, picks, shovels and prison uniforms (stripes) to government agencies – especially county prisons – for road construction. From their Peachtree Street location in downtown Atlanta, the brothers became the first dealer in the United States for the Adams Mule Grader, a predecessor of today's motorgrader which was pulled by eight mules.
Early successes brought expansion into a new location on Marietta Street and branch offices in Birmingham, Alabama, Ft. Pierce, Florida, and Greenville, South Carolina.
Establishing the Nation's First Caterpillar Dealership
In 1918, the Holt Manufacturing Company of Peoria, IL boasted that its Model 45 tractor could do the work of, "40 mules . . . or 40 horses and countless humans." Goodloe and Earle traveled to Peoria to ask Holt if they could represent the product in the southeastern United States. Holt preferred direct sales to end-users and questioned the need for local distribution, preferring to target sales to the United States Army. Unable to secure a demonstration tractor, Goodloe and Earle left Peoria with only a photograph of the Holt Model 45 and a price quote of $4,750 per machine.
Yancey's first Model 45 delivery came later that year to Troup County, Georgia. Within 12 months Yancey had sold all of the Model 45's in Holt's inventory, using only a single photograph. When Goodloe and Earle returned to the Holt factory in Peoria the following year, they were given Holt's first jobber's contract and a higher commission than initially promised.
In 1925 Holt merged with Best Tractor Co. to become the Caterpillar Tractor Company, now the world's largest manufacturer of earthmoving equipment. Records at Caterpillar's corporate offices in Peoria indicate that, based on the original agreement date of December 19, 1918, "Yancey is the dealer with whom Caterpillar and its predecessor companies have had the longest business association." Thus, Yancey Bros. Co. is proud to own the title of, "The Nation's Oldest Caterpillar Dealer."
Growth To Keep Up With A Growing State
In 1924, the brothers established their new headquarters in downtown Atlanta. With the move came a name change to Yancey Bros., Inc. and a reduction in territory from four southeastern states (Georgia, Florida, Alabama and South Carolina) with Holt to only Georgia with Caterpillar.
In 1927 the brothers split the territory with Goodloe operating the company for the 83 counties in the northern half of the state as Yancey Bros., Inc., and Earle operating out of Albany as the Yancey Tractor Company for the southern half of Georgia. Joining Earle in Albany as General Manager of Yancey Tractor was another brother, L.D. Yancey, the father of a future generation of Yancey brothers, Don and Goodloe III.
In 1947, while Earle Yancey's family finalized the sale of Yancey Tractor in southern Georgia, business continued to grow in the northern half of the state. Yancey Bros., Inc. opened its first full-service product support branch in Augusta and adopted the current name of Yancey Bros. Co. Four years later Yancey Bros. Co. relocated to a 12-acre site at 1540 Northside Drive in Atlanta. In 1957 the company opened its second full-service product support branch in Macon.
The Second Generation of Yancey Leadership
Don A. Yancey, a nephew of Goodloe, began his career in 1936 working for Earle and his father, L.D., as a salesman with the Yancey Tractor Co. in Albany. After serving as a Major in the U.S. Army during World War II, Don joined Goodloe at Yancey Bros. Co. in 1946 as a salesman and later as branch manager of the Augusta branch.
Don became President of Yancey Bros. Co. in 1959 and lead the company through a period of great growth of the metro Atlanta area. In 1969, the company again relocated, this time to its current corporate headquarters in Austell, four miles outside Atlanta's I-285 perimeter highway. Yancey's new facilities gave the company room for expansion and growth into the next century.
The Third Generation of Yancey Leadership
In 1974, Goodloe H. Yancey III assumed the presidency of the company upon the retirement of his older brother, Don. Goodloe III had joined Yancey Bros. Co. twenty years earlier as a sales trainee after serving as a Lieutenant in the U.S. Air Force. Between 1954 and 1965, Goodloe III worked as a mechanic's helper, a parts warehouse order picker and a parts counter salesman. He also worked as one of the company's first Parts and Service Sales Representatives, as a Machine Sales Representative, as Sales Coordinator and later as Sales Promotion Manager. Goodloe III became Vice-President of the company in 1966 and Executive Vice-President and General Manager in 1972.
Under Goodloe's leadership, the company opened its existing branches in Calhoun, Gwinnett County and Columbus, and its first full-service truck engine support branch. In 1984, the company acquired the Grissom-Harrison Corporation, a mining and aggregates equipment and support distributor. Three years later, the company formed Sunbelt Power Systems, now known as Yancey Power Systems, to provide truck engine support and electric power generator sales and service. In 1994, Yancey Power Systems opened a new branch at the intersection of Moreland Avenue and I-285 in Conley to meet the demand of the trucking industry in metro Atlanta and to serve as the primary parts warehouse for Yancey Power.


The Fourth Generation of Yancey Leadership
In 1994, the fourth generation of family leadership joined Yancey Bros. Co., when Jim and Donna Yancey Stephenson, son-in-law and daughter to Yancey's former president, Don Yancey, agreed to become the company's primary stockholders. Jim was named President and Chief Executive Officer in September of 1995. The Stephenson's completed their purchase of the company in February of 1996 and assumed the responsibility of leading "The Nation's Oldest Caterpillar Dealer" into its tenth decade of service to the northern half of Georgia.
A Focus On Service Our Customers
Under Jim's guidance the company continued to expand its current operations and ventured into new growth opportunities.
The Cat Rental Store opened in 1997 and continues to provide Caterpillar's full line of construction and building equipment to customers with daily, weekly and monthly rental options. The Cat Rental Store also sells and rents a large menu of non-Caterpillar equipment, ranging from dump trucks to aerial lifts.
In 2002, Yancey Bros. Co. reunited north and south Georgia under a single Caterpillar dealer with the purchase of certain operating assets of Carlton Co., the Caterpillar dealer in the southern half of the state, becoming the exclusive Caterpillar equipment and power systems dealer for Georgia once again.
In 2005, Yancey Power Systems established an operation in Griffin to provide specialized services to customers purchasing power units from Caterpillar's Griffin Engine manufacturing facility. Rebranded in 2008 as Yancey Engineered Solutions, this business serves customers around the globe as a supplier of sound-attenuated packaging, testing and design solutions and engineering services for most makes and models of power generation units.
In 2007, Blue Bird Bus Corporation announced Yancey as their exclusive dealer for school bus sales, OEM parts and factory-supported service for Georgia and Alabama. Yancey Bus Sales and Service provides an extensive line of parts and aftermarket services for school buses of all makes and models, including Carrier air conditioning for school buses.
In 2008, Yancey was one of five southeastern Caterpillar dealers to purchase certain assets of Pioneer Machinery, adding forestry and recycling equipment to the list of products offered in Georgia. In addition to adding the full line of Caterpillar forest products and Peterson processing equipment, the Pioneer acquisition brought additional service centers in Statesboro, Washington and Waycross.
In 2009, the company purchased operating assets of two International Trucks dealerships in southern Georgia and now operates these businesses under the banner of Yancey Truck Centers. This business has sales, parts and service locations in Albany, Augusta, Columbus, Tifton, Blackshear, and Valdosta.
Later in 2009, Yancey completed a reorganization to improve expertise in key market segments and better serve customers. These changes focus Yancey's resources into two divisions. Yancey's Machine Division provides products and services to the Aggregates, Industrial, Mining, Governmental, Waste, Construction, Forestry, and Road Construction Industries. Yancey's Engine Division serves the Electric Power, Marine, Industrial, and Transportation Industries.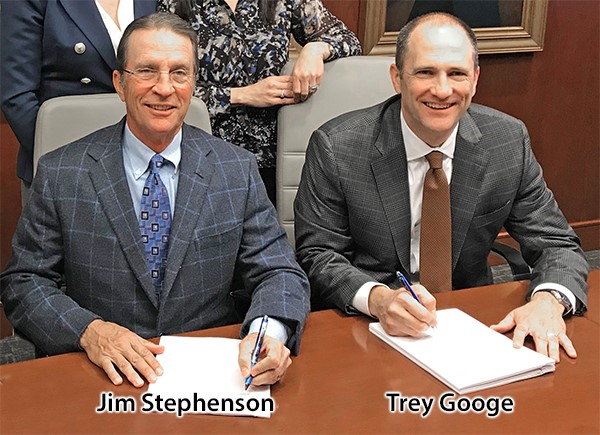 Leadership Transitions from the Fourth to the Fifth Generation
In January of 2019, Jim Stephenson, the fourth generation of the Yancey family to lead the Company, retired as CEO. Stephenson led Yancey Bros. Co. as Dealer Principal and CEO for 23 years, during which time the Company enjoyed unprecedented growth. Upon Jim's retirement, Trey Googe assumed leadership of the Company and the position of CEO, becoming the fifth generation to lead Yancey Bros. Co. Googe joined Yancey Bros. Co. in 2007 and was appointed a Dealer Principal by Caterpillar in 2015.
Helping Our Customers Succeed…From The Appalachians to the Atlantic
Yancey Bros. Co. remains committed to learning more about its customers, offering equipment and support to keep up with their changing needs. Harmon S. Eberhard, the President of Caterpillar, Inc., wrote to Mr. Goodloe in 1958 with these words, "through these years, Yancey Bros. Co. has succeeded admirably in balancing its record of 'seniority' with an equally fine record of aggressiveness, vigor and growth — qualities often associated with a younger organization. If I could define in a few words the job awaiting the future generations of Yancey Bros. Co., I believe it is just that: to continue to combine the wisdom that comes from long experience in this business with a willingness to change and progress in keeping with the challenge of the future's markets." These words remain as true today as they did over fifty years ago.
In 2014 Doug Oberhelman, CEO of Caterpillar, commented on Yancey's service to Georgia by saying, "To imagine a company for 100 years, under the same ownership, with the same name, as successful as it's been for 100 years, is nothing short of a miracle. It says an awful lot about the family and about it's leadership. So, I congratulate you all for being the oldest Dealer in the United States." He added, "I respect and appreciate the relationship between Yancey and Caterpillar so deeply. It's really the biggest advantage Caterpillar has. We call on customers frequently, but we really don't think the Caterpillar brand, the Cat brand, would be what it is without you."
Chairman Oberhelman went on to say, "The relationship between Caterpillar and our Dealers has never been stronger. It's a relationship that started really with Yancey Brothers back in 1914, when the two Yancey brothers came up to Peoria, took all of one year's production of our old tractors, and the Dealer model began right there. We've refined it over the years, we're dedicated to it today (at YBCo's 100th Anniversary celebration), we have 225 Dealers or so around the world, and even in new markets where we've never been before, like China, you will find a Yancey Brothers model there in 23 different places".
One hundred years is a long time to be in business. Many companies come and go during a ten-decade span, and those that survive are allowed to take a quick look back at the history made by generations before them. But simply celebrating the century mark doesn't guarantee future success in today's business climate.
Before his passing in 2018, the late Goodloe H. Yancey III stated, "We are extremely proud of our past and the role we have played in building the Georgia we know today. We want to keep our focus on the future. The challenges of the past have already been met. We are looking for ways to keep our customers productive, competitive and successful into their next generation."