"WE VALUE THE LIVES AND HEALTH OF OUR TEAM AND CUSTOMERS ABOVE ALL ELSE."
As one of Yancey Bros. Co.'s five Core Values, Safety is always at the forefront of everything we do. "Live Safe Every Day" is more than our internal Safety slogan, it is a way of life for every Yancey employee and the customers we serve across Georgia.
Each of our 1,000+ employees receives Safety training throughout the year, and as a group we work tirelessly to make Yancey, the job sites we visit, and all areas we travel and visit a safer environment for both our employees and customers.
Below are quotes from several Yancey employees and their thoughts on why they "Live Safe Every Day" while at work: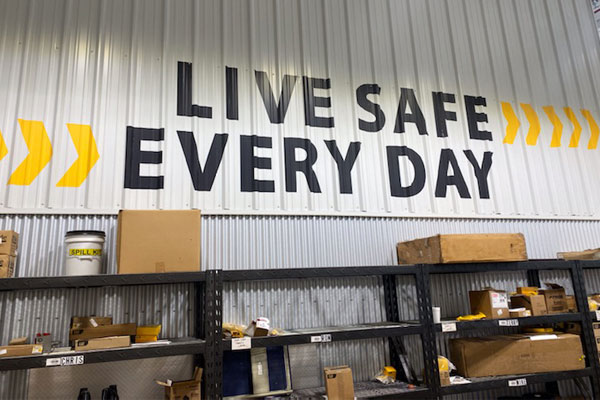 "My number one goal is to make sure I do my part to keep my co-workers and I in the safest environment as possible and keep injuries to an absolute minimum."
"I work safe for me and the people at home."
"I have 3 children at home that need their dad to come home and be there for them."
"I work safely so I can go home and play catch with my son".
"If I get hurt I can't provide for my family."
"I work at being safe because I want to go home happy and healthy every day."
"Working safely reflects the professionalism that our field requires."
Online Resources From Caterpillar
Caterpillar also places Safety as one of their most crucial elements of business. So much that they dedicate employees, man-hours and thousands upon thousands of dollars toward promoting and ensuring their employees and the products they make are built and operated safely, and that the end-users of their machines and engines operate them in a safe and responsible manner.
Cat has a dedicated business unit, Caterpillar Safety Services, that actively promotes Safety, and a website that covers a wide array of topics, checklists and resources dealing with Safety.
This website includes "Toolbox Talks" on a variety of topics. The Toolbox Talks provide step-by-step talking points you can use in promoting Safety with your own employees, plus they offer Safety DVDs that cover a number of other topics. These DVDs can be used to build a Safety "library" for your own business, thus giving you a permanent Safety training library for both veteran and new employees.