A backhoe loader is a productive and versatile piece of equipment that's essential in a wide variety of industries. When you're in the market for a specific type of machine and purchasing new doesn't fit the plan, the pre-owned market provides a cost-effective solution for keeping pace with demand. Georgia's Yancey Bros. Co. has one of the state's largest inventories of used backhoe loaders for sale by Cat and allied brands.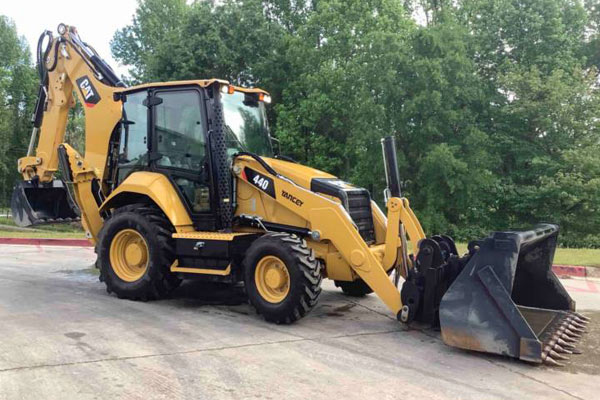 BENEFITS OF BUYING A USED CAT BACKHOE
Buying a used backhoe from Yancey gives you all the power, performance and versatility associated with Cat equipment at a price that works for your budget. Cat backhoes provide more efficient digging, trenching, backfilling and material-handling capabilities in a small package that's easy to transport and cost-effective to run. When you buy used, you are getting a machine that, with proper service, will provide a lifetime of reliable use. In fact, a used Cat backhoe loader often offers more value than a new unit by an allied brand.
Our inventory of used backhoes for sale is one of the most extensive in the region, with a wide variety of models in stock in a range of styles, hours, conditions and configurations. Newer and low-hour units are available, many of which have been sourced from our rental fleet, which we professionally service throughout their operational life. Whether you need a late-model backhoe used in Albany or a more seasoned unit in Resaca, we'll help you find the equipment you require fast to eliminate downtime and maximize productivity.
GET IN TOUCH ABOUT USED BACKHOES FOR SALE
For more than 100 years, Yancey Bros. Co. has been a proud partner to Georgia's heavy industries. In addition to offering an exclusive line of new Cat equipment, we also offer a diverse range of used backhoe loaders for sale, priced to fit virtually any budget. From peerless product knowledge and technical support to a complete selection of work tool attachments, parts and services, we're the one-stop-shop for all your needs.
Let us match you with the right machine for your budget. With service throughout the state, we are your best choice for buying a used backhoe loader in Atlanta, Albany, Macon and beyond.