A Buying Guide for Cat Skid Steer Loaders
Skid steer loaders are among the most valuable and versatile machines in any heavy equipment fleet. If your skid steers are no longer meeting your performance expectations, it's probably time for an upgrade. The good news is that if you're looking to buy a skid steer in Atlanta or anywhere else in the Peach State, you don't have to look far for state-of-the-art equipment that will provide a welcome boost to your company's bottom line.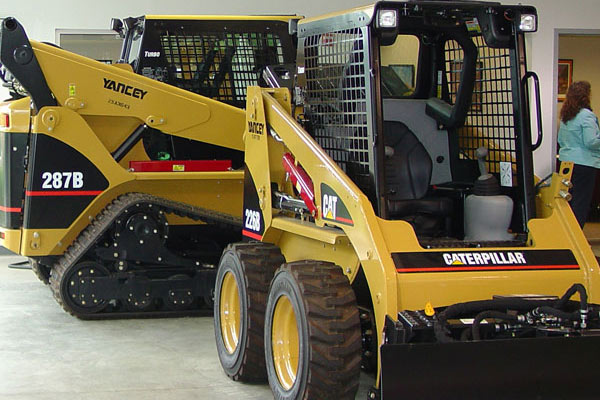 CHOOSE A NEW SKID STEER FOR SALE BY CATERPILLAR®
Georgia's Yancey Bros. Co. is your exclusive source for new Cat skid steer loaders for sale. Caterpillar is the world's undisputed heavy equipment leader, and it's been that way for generations. Cat construction equipment will provide the solution you need to overcome your most daunting work challenges while providing many years of reliable service. Cat skid steers are "built for it!"
As the company's only representative in the region, we carry the entire lineup of Cat skid steer loaders and related machines. We also back up everything we sell with factory-authorized service, including programs like the Scheduled Oil Sampling (SOS) protocol. Other available service programs include:
Condition Monitoring — Provides a proactive, comprehensive analysis of equipment condition in five key areas: fluid analysis, equipment history, inspections, site conditions and electronic components.
Visionlink® — Get access to real-time data regarding machine performance, location, utilization and more.
Hydraulic Service — We'll keep your equipment's vital hydraulic systems in peak operating conditions, and we can also perform complete hydraulic component rebuilds.
Customer Support Agreements — We can work with you to develop a customized CSA that can lower per-unit costs over your equipment's lifespan.
Field Repairs and Service — If you can't come to us, we'll come to you to perform timely skid steer repairs if needed.
If you're considering buying a skid steer loader in Atlanta or elsewhere in the state, contact Yancey first. You'll find the best selection of quality Cat equipment along with professional service to maximize your purchase.
ABOUT CAT SKID STEERS
Skid steer loaders are one of the best-selling small machines. Their relatively small size enables skid steers to maneuver in tight spots that are inaccessible to larger, heavier equipment. Ideal for a range of applications, including material handling, construction work, landscaping and more, a Cat skid steer loader is easily transportable and can be counted on to deliver performance, versatility and fuel efficiency on any job site.
The current generation of Cat skid steers for sale from Yancey Bros. Co. is fully compliant with US EPA Tier IV standards. All machines feature a comfortable cab designed for visibility and all-day comfort. They also have precise controls and refined hydraulics that provide extended reach and higher lift heights. Cat skid steers are easy to service with accessible components, reducing downtime due to repairs and maintenance.
SERVICE SUPPORT FROM YANCEY BROS. CO.
For over 100 years, Yancey Bros. Co. has been an essential ally to construction and other heavy-industry operators throughout Georgia. Buy a skid steer loader from us, and you can count on expert repairs and maintenance that keep your purchase running its best for years to come.
LEARN MORE ABOUT OUR SKID STEERS IN GA
If you're ready to buy a skid steer loader in GA or would like to learn more about the new Cat skid steer product line, the Yancey team is always willing to assist you. In Atlanta, Savannah, Macon and beyond, contact a Yancey sales representative for more information about our current lineup of skid steer loaders for sale. You can also stop by a Yancey location for a closer look.