Rent A Skid Steer in Georgia
For industries ranging from construction, landscaping and road building to agriculture, mining and forestry, a skid steer loader is a versatile piece of equipment capable of maximizing productivity. When you have a temporary need for top-quality construction equipment and purchasing new or used isn't in the cards, a rental skid loader is often the most economical and effective solution. As the authorized Cat® dealership for Georgia, we're your local, reliable source for skid steer loader rentals.
Yancey Rents makes it easy to rent a skid steer in Atlanta, Savannah, Albany, McDonough and anywhere else in Georgia. We offer both long- and short-term skid steer rental solutions at competitive rates, with discounted prices for anyone with extended rental needs. Follow the links below or contact our rental office to view our current inventory of skid steer for rent and request a quote for an upcoming job.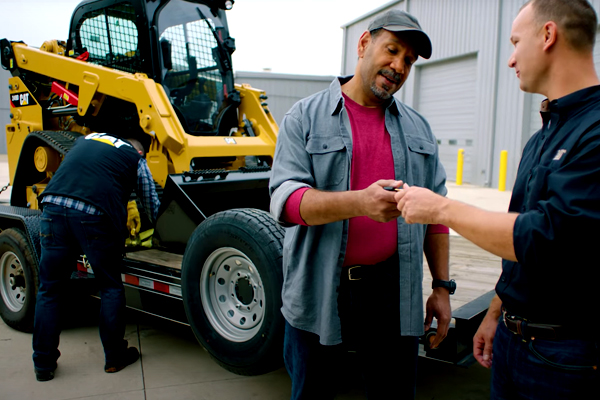 OUR RENTAL FLEET
Cat equipment offers a number of advantages similar in-class machines don't have. When you rent a Cat skid steer from Georgia's Yancey Rents, you are getting a machine that's been engineered from the ground up for superior performance, safety and operator comfort. Choosing Cat can improve your productivity while keeping your operating costs low – important advantages on any job.
Yancey Rents has three main types of Cat skid steers available for rent in Georgia:
The 56 horsepower 226B3, with a rated operating capacity of 1,500 pounds
The 73 horsepower 242D, with a rated operating capacity of 2,150 pounds
The 73 horsepower 262D, with a rated operating capacity of 2,700 pounds
All rental units feature low hours and come fully inspected and serviced by our team of skilled technicians. We also rent a versatile selection of work tools and accessories that provide you with additional on-the-job flexibility. For detailed specifications, please contact a rental representative in your area.
WHY RENT SKID STEER LOADERS FROM YANCEY RENTS?
Yancey Rents has been serving the heavy equipment needs of hard-working businesses in Augusta, Bloomingdale, Griffin, Macon, Washington and the surrounding areas since 1914. We strive to be your most trusted source for renting skid loaders with a full selection of late model, well-maintained equipment in stock. When you rent a skid steer from us, you'll benefit from the following advantages:
We have the largest selection of skid steer loaders for rent by Cat, the industry leader in performance, versatility and fuel efficiency.
Our fleet of skid steer rentals consists exclusively of low-hour machines, meticulously maintained to the high standards of the Cat brand.
We have more than 100 years of experience helping Georgia construction crews succeed and can match you with the right machine for any job.
Convenient locations to rent skid loaders in Albany, Austell, Brunswick, Calhoun, Dacula, Statesboro, Valdosta, Waycross and throughout the state.
BENEFITS OF RENTING SKID LOADERS
Renting a skid loader means you get the specific piece of equipment you require, when and where you need it most. Skid steer loaders provide unmatched versatility in a broad range of applications and environments. A skid steer is also smaller and more maneuverable than heavy-duty construction equipment. It excels in transporting materials over rugged terrain and moving earth in confined spaces.
When you rent a skid steer loader from Yancey Rents, you can:
Meet temporary equipment requirements without the large investment of buying additional machinery.
Save on transportation costs when working remotely, thanks to our network of locations throughout Georgia.
Avoid the expense and hassle of maintaining/servicing your own fleet.
Quickly respond to emergencies and other critical needs.