Renting Cat Excavators in Georiga
When the work you do involves tough daily applications in the most rugged environments, it pays to have equipment capable of standing up to the biggest challenges. Designed for portable performance in a variety of applications, a Cat® compact excavator is an ideal rental choice for your upcoming job. At Yancey Bros. Co., we have more than 100 years of experience matching construction and landscaping crews with the equipment solutions they need to get the job done right.
Our rental division boasts a large inventory of Cat compact excavators for rent, and each has been meticulously maintained to the legendary company's highest standards. Whether you need to rent an excavator for a day, a week or longer, there's no better partner than Yancey.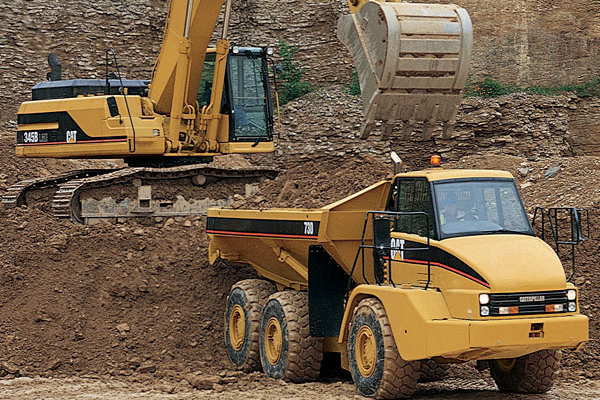 ABOUT CAT MINI EXCAVATORS
Cat mini excavators for rent from Yancey Rents range from the 13 horsepower 300.9D to the 55.6 horsepower 308D CR, and can be configured with a variety of attachments to meet your specific project requirements. All our rental units can be counted on to deliver everything the Caterpillar brand is known for, including fuel-efficient performance, versatile operation and a wide range of available work tools that make it possible to tackle multiple applications with a single machine.
Today's Cat compact excavators build on the company's history of innovative, ergonomic controls. When you need to train staff on unfamiliar equipment, the intuitive performance of a Cat machine will minimize your downtime without compromising safety or productivity on the job.
When you rent mini excavators manufactured by Caterpillar, you benefit from:
Powerful Cat engines that produce lower emissions and reduced fuel consumption
Standard features such as high-intensity discharge lights that improve job site safety
Cat Grade Control Depth Slope technology for precision digging and filling
The latest operating and monitoring technology to optimize safety and efficiency
STRONG AND DEPENDABLE CAT WORK TOOLS
Cat mini excavators may be small, but that doesn't mean they lack the versatility of their larger counterparts. When you're on the job, the ability to do more with less is critical. If a portable machine doesn't deliver the performance you need, it isn't worth the savings you'll see on transportation costs.
Fortunately, Cat mini excavators are built to do more in a wide range of applications. The key is the company's lineup of work tools, many of which are also available to rent from Yancey. Choose from digging buckets, augers, hydraulic hammers and more. Whether you work in construction, landscaping or any other industry, we have the working solution for you.
WHY RENT MINI EXCAVATORS?
Renting a mini excavator is the obvious choice for a one-off job or short contract. However, renting can be the right choice for longer jobs, as well. Because rental costs don't show up on your balance sheet the same way lease payments do, you'll free up credit and cash that can be used for other investments. You only pay for the machines you require when they're in use, while also eliminating added expenses relating to storing, maintaining and transporting a larger fleet of equipment.
As a leading source of equipment rentals in Atlanta, GA and the surrounding areas, Yancey also offers discounted rates when you rent for a month or longer. Whether you want to rent a mini excavator in Savannah or require an emergency equipment rental in Albany, we're fully equipped to meet your needs. No matter how long you need your rental for, our mobile service team is available to provide any required maintenance on-site and at your convenience. This ensures it will stay in the best condition possible.
When you choose to rent mini excavators from us, you benefit from:
Flexible rental terms with the ability to swap out models based on your changing project requirements
Exceptional selection and availability of the most advanced mini excavators on the market
Full-service support, including around-the-clock emergency maintenance and product replacement
Ability to try a specific model of equipment before buying it
Competitive prices and free, no-obligation quotes
GEORGIA'S EXCAVATOR RENTAL EXPERTS
Yancey is the only authorized Cat representative offering mini excavator rentals in Georgia. That means we're the only place you'll find the company's newest and most advanced machines and accessories. With rental store locations in Albany, Augusta, Austell, Brunswick, Calhoun, Columbus, Dacula, Macon, Mcdonough, Savannah, Statesboro, Valdosta, Washington and Waycross, we offer convenient service for clients throughout the state. Find a store near you by visiting our locations page.
SEARCHING FOR A MINI EXCAVATOR FOR RENT? REQUEST A QUOTE ONLINE
When you're looking for a reliable source for equipment rentals in Atlanta, GA and beyond, choose the local dealer with world-class capabilities. With Yancey, you can browse our current inventory of rental units, choose the work tools and accessories you need, and request a quote online. We're available to transport your rental to your work site, or you can pick it up at one of our 12 locations. For assistance choosing the compact excavator rental package that's right for you, contact a Yancey representative by phone or email.Or stop by one of our locations for equipment rentals in Albany, Macon, Pooler and all across Georgia to reserve an excavator for rent today.