Heavy Equipment Specially Designed for All Landscaping Jobs
Yancey offers the full range of Cat® equipment to make your next landscaping project easy. From utility vehicles to loaders and excavators, Cat has an enduring reputation for providing top quality products. And with options of buying or renting, Yancey makes it even easier to experience all that Cat has to offer.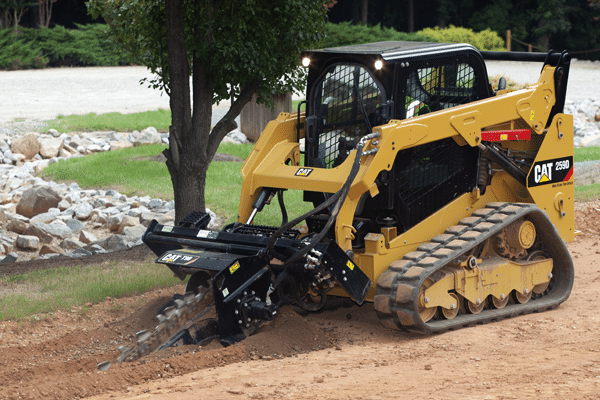 Compact Track Loaders
We offer the largest line of compact track loaders that move dirt, sod and gravel and help you shape the ground the way you need it. This includes smaller models when space gets tight. Our compact track loaders, also known as a Bobcat or Skid Steer loaders, provide a smooth operation and precise control and have a reputation for quality and reliability to help you get the job done right.
Mini Excavators
For more precise shoveling for trenches, plumbing, and planting, our line of mini excavators come in a range of sizes and your choice of open cab or cab and A/C models to fit your budget. If you need a bit more digging room, our 302.7D Mini Hydraulic Excavator gives you both reach and wide digging ability in a compact excavator size.
Landscaping Equipment Attachments:
Yancey makes it easy to select the right tools for your loaders and excavators. Here are just a few of the tools and attachments we offer:
Brush Cutters: These specially designed trimmers work to cut existing brush and clear pathways so you can get to work.
Excavator Buckets: Our wide range of bucket sizes make hauling massive amounts of dirt easy. Select from bolt-on teeth designs for improved digging or cutting-edge options to sculpt and flatten ground.
Skid Steer Buckets: Like our excavator buckets, you can select from cutting edge and bolt-on teeth models in a range of sizes to fit all rubber-tire Skid Steer Loaders, Compact Track Loaders and Multi-Terrain Loaders. They will even fit on your other older Kubota, Bobcat or Takeuchi machines. These compact loaders help you haul away dirt fast in even tight spaces.
Trencher: When it's time to lay in your plumbing or set your foundation, we offer a full range of hydraulic, high flow, and manual trenchers in a range of tooth options from standard to "terminator".
Tillers: When the ground gets tough, our line of tillers are specially designed to break up hard soil into loose dirt for easier planting.
Stump grinders: Need to remove trees? Our stump grinders work to cleanly and efficiently shred away stumps, avoiding the need to remove and haul away entire stumps and roots.
Augers: Make precise holes in even hard ground for fencing or planting with our wide range of augers. Choose from standard bits to rock head and tree bits.
Renting with Yancey Rents
If you just need a machine for a short period of time and you are not quite ready to buy heavy equipment or work tool attachments, renting is a great alternative option to tackle any job and help you maintain revenue and grow your business.
New to Landscaping?
If you are just starting your landscaping business, our sales and rental representatives can guide you you need to start your career off right. We offer a full range of equipment landscapers typically need on the job.
Yancey is your professional provider of everything you need on the job. We know a thing or two about landscaping and know the right tools to get the job done. Our representatives can help you start your career off right.
And if you are a member of one of these landscaping associations, you can receive special discounts on new Cat machines and attachments.
Landscape Management Network (LMN)
Georgia Green Industry Association (GGIA)
Urban Ag Council (UAC)
For more information about Yancey's equipment offerings, landscaping services, and association discounts, contact us.