Air Compressor Rentals in Georgia
If you rely on an air compressor to power your tools or drive your processes, you know how important it is to match the right equipment with the right application. Yancey Power Systems has a wide range of temporary air equipment for rent by the day, week, month or longer. We carry reliable, efficient products by Sullair capable of delivering anywhere between 375 and 1600 CFM of compressed air at pressures ranging from 80 to 500 psi.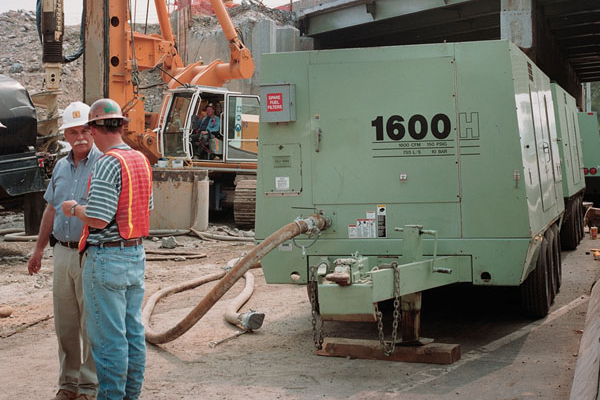 OUR RENTAL FLEET
Sullair rotary screw compressors are an ideal choice whenever you need a mobile compressor or air tool equipment rental. We rent the company's complete line of products, including both lubricated and oil-free compressors for use in sensitive environments where preventing contamination is essential. Sullair products include features such as high/low-pressure control valves, electronic engine controls and protective shutdown switches, making them easy to train new staff on and simple to set up in your operation.
Our rental air compressors are powered by EPA/CARB-certified diesel engines that meet all applicable emissions standards. They feature sound-deadening housing to help you stay compliant with local noise ordinances. All air compressor rentals in our rental fleet receive regular service from factory-trained technicians. This ensures that not only are they more reliable, but that they can be counted on to deliver efficient performance for as long as you need them.
RENTING FROM YANCEY POWER SYSTEMS
When you rent a mobile air compressor from Atlanta's Yancey Power Systems, you are working with a company that will be there for as long as you need your unit. We can help you determine your compressed air needs and select the model that will deliver optimal performance at a low operating cost. We can arrange delivery to your job site and, if you need your portable compressed air rental for an extended period of time, we can provide any maintenance necessary to keep it running its best.
Renting is a great choice for any organization with temporary compressed air needs, such as maintenance or repairs to your main system, seasonal high workloads or emergency service. Renting an air compressor is also a great way to try out a potential purchase in real-world conditions. For more information about air compressors for rent in Macon and beyond, speak with one of our rental representatives directly.
GEORGIA'S CONSTRUCTION AIR COMPRESSOR LEASING SERVICE
For more than 100 years, Yancey Power Systems has been a trusted partner to construction, roadwork and landscaping crews throughout Georgia. We have multiple locations offering high-pressure air compressor rentals in Augusta, Atlanta, Macon, Calhoun and beyond. Contact a location near you or fill out the form below to learn more.