Agricultural machinery like Cat® skid steers and compact track loaders can support farm operations by increasing production almost exponentially. In fact, these forms of machinery make for very versatile farm usage through attachments:
Bale spears
Grabs
Backhoes
Buckets
Tillers
Augers
Silage defacers
Forks
Flail mowers
Bruch cutters, and more.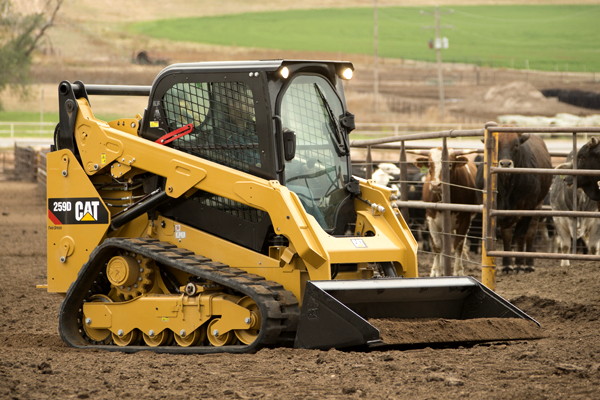 Still, you may not realize how Cat skid steers and compact track loaders can completely improve the efficiency, production, and revenue-generating value of your agricultural operations. So, let's dive into the use cases and benefits you can see through their implementation on your farms.
Cat Agricultural Machinery Uses
Using a CAT compact track loader or skid steer, you can improve efficiency and ease the stress of everyday jobs. For example, when it comes to material lifting, you can manage bales of all kinds, including:
Grass
Hay
Seed
Animal feed
Crops
Fencing, and more.
Moreover, you can use attachments for digging, trenching, irrigation, and the setting of fence poles on your property. Finally, maintenance with skid steers and compact track loaders is streamlined and improved, allowing you to accomplish many tasks with ease:
Mowing
Hedge trimming
Stall cleaning
Spread fee
Stump removal
Forestry maintenance, and more.
With all these capabilities to manage your agricultural operations and tasks, you'll see many different benefits that can increase production and fuel your output so that you're always reaping more from what you sow.
Cat Agricultural Machinery Benefits
The primary reason you should seek a skid steer or compact track loader is to increase production and feed your bottom line. But, there are many other reasons to select this agricultural machinery.
For instance, skid steers and compact track loaders with attachments do away with the need to own multiple machines to complete diverse, varied jobs on your farms. They are versatile machines that can lower the cost of your investment in machines when you are used to owning multiple, single-use tools.
In addition, they are built for intense, tough, and rugged environments and applications that make them robust solutions to the problem of equipment that breaks down from a lack of strength in application. That's why you get two to three times the lifetime value out of a Cat skid steer or compact track loader when you compare them to other, competing brands.
Finally, when you choose a Cat skid steer or compact track loader, you can partner with Yancey to access preventative maintenance and a huge warehouse offering an impressive array of available parts for repairs and efficiency enhancement.
Get Cat Agricultural Machinery at a Discount!
Yancey offers special discounts and savings for farmers and agricultural landowners through the Farm Bureau and National Cattlemen's Beef Association. That means you can own or operate a Cat skid steer or compact track loader at a lower price than what the market typically offers. It's a great chance to invest in your agricultural operation while staying smart and within budget.
Cat makes some of the most advanced and reliable agricultural machinery available. Contact Yancey for agricultural machinery to get started with a Cat skid steer or compact track loader at an impressive, reduced rate.