HOW IT CAN HELP YOUR BUSINESS
Heavy equipment rentals are a small but growing trend. It's an effective way to fill in gaps in your fleet. If your equipment breaks, renting equipment can help you get back to work quickly.
But to rent heavy equipment isn't like renting a car. You'll need to know what to look for in a rental business and when renting construction equipment makes sense.
This guide will introduce you to what you need to know about heavy construction equipment rentals. You'll find out when equipment rentals make sense, and how they compare to ownership. We'll also give you some tips on picking the right rental business and how to compare the cost of owning versus renting.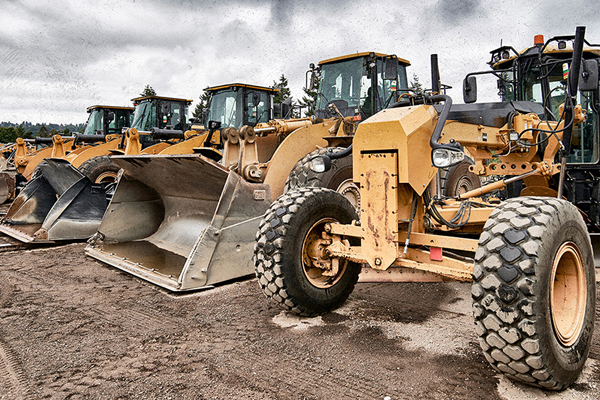 WHY RENT CONSTRUCTION EQUIPMENT?
Renting equipment isn't always the right choice. If you have capital for a down payment, use certain equipment regularly, and would like a return on investment later, buying might be a better option.
But there are many situations where heavy equipment rentals make sense. Businesses use equipment rentals to fill in gaps, replace broken machinery, or try out new technology.
Here are some of the most common reasons to rent equipment.
1. YOU NEED SPECIALIZED EQUIPMENT FOR A SHORT TERM JOB
Some short-term projects or one-off jobs need specialized equipment, such as landscape equipment or a mini skid steer. Rental may be a smart option. Instead of storing and maintaining equipment you rarely use, renting will help you cut out storage, maintenance and insurance costs.
You'll also be able to select exactly the right equipment for the job. By choosing the right equipment, you'll speed up the project's completion and minimize downtime.
2. YOU WANT TO SUPPLEMENT YOUR EXISTING FLEET DURING BUSY SEASONS
Many businesses rent equipment to supplement their fleet during busy periods. Agricultural and landscaping companies often use rental excavating equipment and cherry pickers during their busy seasons. Roadwork and construction businesses also rent equipment to supplement their fleet in busy periods.
Renting to supplement your existing fleet has several benefits. By renting instead of buying, you can free up capital to hire employees or buy equipment. You'll also avoid the hassle of storing and maintaining equipment during slow seasons.
3. YOU WANT TO TRY EQUIPMENT BEFORE YOU BUY
Some businesses rent equipment to try it out before purchasing it. If they like the equipment, they can buy or lease it. Trying equipment out by renting it allows you to find out how it handles on your job sites. Some rental companies, such as Yancey, offer flexible rental agreements. One popular option is our rent-to-own agreement. If you decide to buy equipment, you'll be able to apply some of your rental fees to a down payment.
4. YOU NEED TO REPLACE BROKEN EQUIPMENT IN A HURRY
Heavy equipment breaks down. But when it breaks on a job site, sometimes you need a rental to keep a project going. That's why one of the most common rental reasons is replacing damaged equipment. With conveniently located rental offices, we'll be able to help you replace equipment quickly. We maintain our rental equipment to Caterpillar's® legendary high standards. Our well-maintained rentals will minimize further downtime.
5. YOU'D LIKE A LOW UP-FRONT COST
Growing businesses often rent equipment while they're expanding. By renting, you can free up valuable capital and space out equipment purchases.
Buying heavy equipment has a big price tag. By contrast, renting can be much more affordable. It's easy to have big — and sometimes unpredictable — expenses while your business is expanding. Renting equipment gives you a low, fixed cost. It also eliminates unpredictable maintenance and repair expenses.
THINGS TO CONSIDER WHEN SELECTING A HEAVY EQUIPMENT TO RENT
It's important to pick the right rental equipment. That's why finding a reputable rental company is important. Consider these questions when looking for heavy equipment to rent:
Does the company have a wide selection of recent equipment?
Do most of its rental equipment have low use hours?
Are machines maintained and upgraded as needed?
Does the company offer EPA-compliant equipment, such as dozers with tier 4 engines?
Are their knowledgeable specialists available to help you select equipment and answer questions?
Does the company quickly respond to any technical concerns?
What are the rental fees, and are there associated costs?
The quality of rental equipment is one of the most important factors. Does the company offer the right rental equipment for your job? Can it help you find the right equipment? That difference between the right equipment and the almost-right equipment can be significant.
A wide selection of new machines with recent technology is important. Newer machines often have innovative technology that can improve your productivity. And older equipment that's no longer EPA compliant might actually keep you off a job site. Look for rental companies that offer tier 4 engines and recent technology and hydraulics systems.
Consider the typical maintenance and use hours on rental machines. To maximize your uptime, your rental machines should have low hours and regular maintenance. Well-maintained equipment will also give you better fuel economy and smoother handling.
Look for experienced specialists and responsive customer service. Full-service rental providers offer a number of valuable resources. For instance, we offer a prompt field repair service if your equipment breaks down on the job. Our representatives can also help you select the right equipment for a project — an invaluable service if you're working on a short-term or one-time project.
RENT LANDSCAPE AND CONSTRUCTION EQUIPMENT TO SAVE
Finally, consider the financial costs of renting equipment. Renting equipment offers valuable savings for many businesses. That's because you cut out maintenance and storage costs. You'll also avoid a large capital investment. That can strengthen a growing business' borrowing power.
But not all rental agreements are the same. We offer flexible rental agreements and will work with you to customize an agreement for your company. A rental agreement can vary from a single day to several seasons. Make sure you find a rental agency that can offer you a variety of terms.
Along with the cost of the rental, consider fuel efficiency and transportation expenses. Many contractors overlook the cost of transporting heavy equipment to job sites. That can result in unexpected expenses when you need to deliver machines to a job site. With rentals from Yancey Rents, this won't be an issue. We deliver equipment to job sites across Georgia.
Popular Types of Rental Construction Equipment
Renting construction equipment has become more common in the past few years. Equipment rentals have increased across the nation, and track loaders, forklifts and wheel loaders are some of the most quickly growing types of rental equipment.
If you're considering renting construction equipment, you may want to know more about your options. We have a large inventory of wheel and track loaders, excavators and backhoes for rent. We're also expanding our rental division to include more equipment than ever before.
Read on to find out about some of the most common types of rental equipment.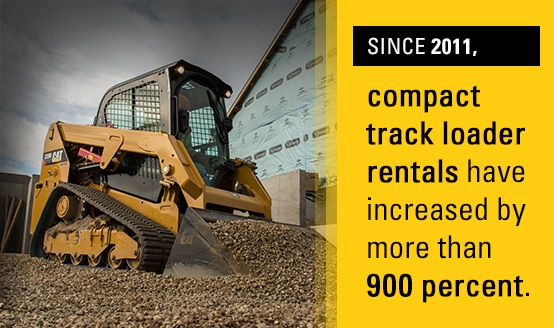 TRACK LOADER RENTALS
No heavy equipment rental has grown more quickly than track loaders! Since 2011, compact track loader rentals have increased by more than 900 percent. And for good reason: they're versatile enough to be used in almost every industry.
Many businesses rent compact track loaders to supplement their existing fleet. Many landscaping and agriculture businesses use rented track loaders to keep up during their busy season. By renting, you'll avoid long-term storage, maintenance and insurance costs.
Compact track loaders are also versatile tools for contractors, construction and road work. They can be used for carrying, digging and pushing. Compact track loaders are particularly useful because they can maneuver in tight spaces. This means you'll be able to use them on a wide variety of job sites.
Yancey Rents offers compact track loaders from the Cat® D series line. These loaders have high-performance tier 4 engines, so you'll spend less on fuel. And their improved hydraulics will help you get jobs done in a variety of terrain.

SKID STEER LOADER RENTALS
Skid steer loaders are one of the most versatile pieces of heavy equipment available. Skid steer loaders are common in construction, landscaping and agriculture. Skid steer loaders usually have a shovel or lift attached. However, you can use specialized attachments for everything from trenching to cement mixing.
Skid steer loaders can also be used for:
Excavating
Stump/Concrete Grinding
Grading
Wood chipping
Tilling
Moving pallets
Many businesses do skid steer loader rentals as a way to try them out before purchasing. Renting skid loaders is also a popular option for growing businesses. You'll free up valuable capital for hiring new employees or buying other equipment.
BACKHOE LOADER RENTALS
You might be considering renting either a backhoe loader or a compact excavator. Compact excavators are becoming more popular. But backhoe loaders are usually chosen for work on rugged terrain. A rental backhoe loader can also reduce your transportation expenses. That's because backhoe loaders can drive up to 25 miles per hour. By contrast, compact excavators will need to be transported to a job site. Other reasons to consider renting a backhoe loader:
Expand your fleet quickly
Take on a project that's beyond the capacity of your existing fleet
Quickly replace equipment that's out for repairs
Many backhoe loaders can be used for more than just excavation. Getting a backhoe loader for rent can be a good way to add a versatile machine to your fleet. You can also use a backhoe loader for loading, trenching and lifting.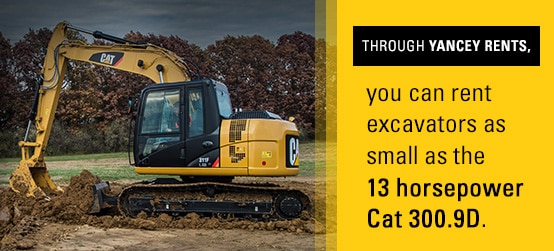 COMPACT EXCAVATOR RENTALS
Renting a mini hydraulic excavator has become a popular alternative to renting a backhoe. One reason for its popularity is its lightweight. It won't leave heavy tracks and will cut down on topsoil damage.
If you rent a mini excavator, you'll need to consider transportation. Mini excavator rentals will need to be moved to and from the job site. Some rental companies, including Yancey Rents, will deliver mini excavators to job sites. This compact equipment rental often excels in small, tight spaces. Consider renting one when you:
Need to maneuver through narrow gates
Are working in crowded areas such as parking lots
Require a 360-degree swing
Renting is also a good way to try out new compact excavator technology. You'll know exactly how much horsepower you need when you buy an excavator. Through Yancey Rents, you can rent excavators as small as the 13 horsepower Cat 300.9D. At the other end of the spectrum, you can rent the Cat 55.6 horsepower 308D CR excavator. And if you choose to buy, you'll be able to apply a portion of your rental fees as a down payment.
EMERGENCY GENERATOR RENTALS
Many people don't consider generators when they think about compact construction equipment for rent. But renting is an efficient way to get an emergency generator on your job site quickly. Generators are rented by agricultural, construction, and roadwork businesses to provide power on the job site. Emergency generators have a number of uses. These include:
Lighting isolated job sites
Providing lighting for roadwork at night
Powering construction equipment
Running safety and warning signs
Some projects may require an emergency generator on site. If your project is one of these, renting an emergency generator can help you meet job requirements.
Emergency generators can be small enough to operate just a few tools or large enough to power most of the job site. Generators come in two styles: portable and standby. Portable generators are usually manually turned on, while standby generators automatically turn on when the power is cut. A specialist can help you determine the right type and size of generator for your job site.
FIND THE BEST COMPACT EQUIPMENT FOR RENT
If you're considering renting equipment to supplement your fleet or replace your current equipment during downtime, we can help you get started. We rent landscape equipment ranging from mini backhoes to generators. You can view our current rental equipment inventory or talk to a customer representative today.