Benefits of Buying A Used Skid Steer
As a growing business, you want to get the most out of your purchasing dollar. When it comes to your equipment budget, both purchase price and long-term value are important concerns. Buying a used skid steer loader from Yancey Bros. Co. allows you to take advantage of all the benefits of Cat equipment — low cost of ownership, ease of maintenance, fuel efficiency and more — at a fraction of the cost of purchasing new.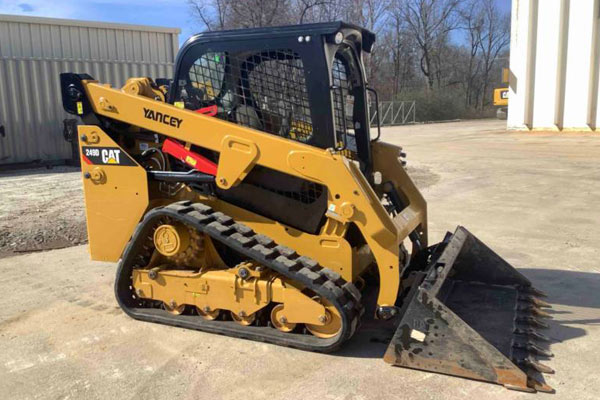 Like all Cat equipment, used skid steers feature a built-in "second life" thanks to a number of modular components that can be rebuilt again and again. For many applications, buying a used skid steer loader from Cat offers more long-term value than a comparably priced new machine from an allied brand. Whether you need to buy used skid steers to increase the capabilities of your fleet or you're replacing older equipment, a Cat machine offers benefits such as:
Ergonomically designed operator stations with hydraulic joystick controls for reduced operator fatigue and increased productivity
Welded box section mainframes and reinforced side plates capable of standing up to the most rigorous work environments
Features such as bright indicator lights and audible warning signals that improve job site safety and performance
Used equipment sales in Atlanta and throughout the region supported by your local Cat dealership
BUYING A USED SKIDSTEER
In Macon, Atlanta and beyond, Yancey offers sales and service for our complete inventory of used skid steers. We back up everything we sell with industry-leading service support, including 24-hour emergency repairs, Cat Customer Support Agreements and more. From a complete range of parts, accessories and work tool attachments to flexible financing and extended warranties, we strive to make the process of buying a used skid steer as straightforward and affordable as possible.
Call, email or visit a location near you to find out more about our line of used skid steers for sale and to request a free quote on any machine we have in stock.