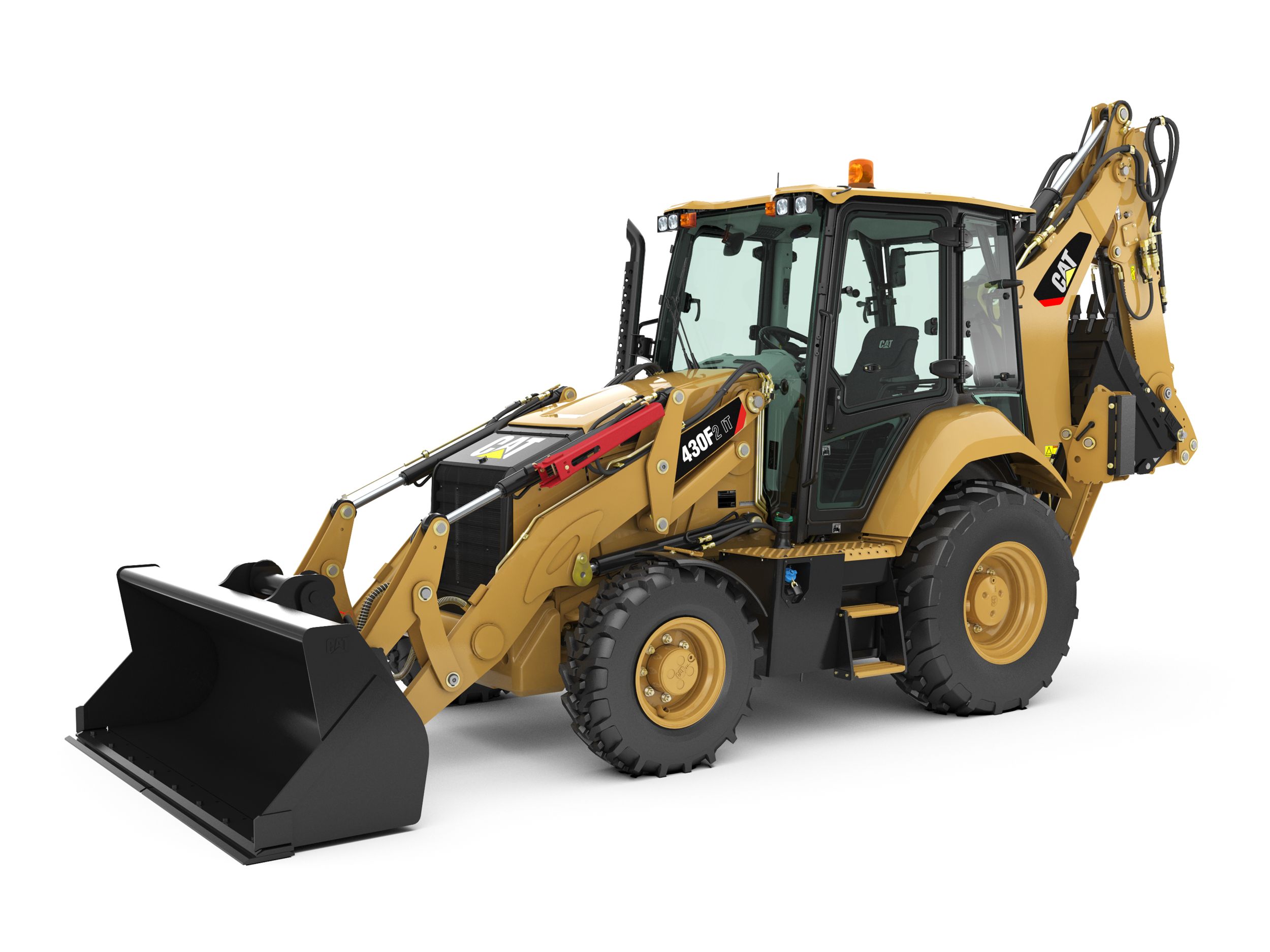 Experience the Backhoe Loader designed around customer feedback. The Cat 430F2 Backhoe Loader puts all the machine controls at the operator's fingertips. Operate all auxiliary controls with thumb rollers. Move from job site to job site quickly and smoothly with the additional 6th gear on the autoshift transmission and optional lock-up torque converter.
Standard & Optional Equipment
Operator Station

A cab designed for maximum comfort and productivity.

Unmatched Comfort

The ergonomic, automotive style operator station helps you work comfortably and productively all day long. Choose the configuration that meets your needs – Canopy, Cab Deluxe or Cab Deluxe with Air Conditioning. Other features include:

Adjustable air suspension seat
Tilt and telescoping steering column
Excellent visibility over hood and up to bucket dump
Pantograph windshield wiper
Large front windshield screen
Large LCD gauge cluster screen
Ample legroom
Optional heated seat
Differential lock button on loader lever
Large opening windows
Solid roof cab
LED brake lights

Ride Control

The optional Ride Control System smoothes the ride in all conditions, including load and carry, highway roading or simply moving around the job site. This results in increased operator comfort and improved material retention and facilitates a reduction in operator fatigue.

Pattern Selector

The pattern selector switch, located in the cab, lets you change from an excavator to a backhoe control pattern simply by pressing a button. This lets you use the pattern you are most comfortable with so you can be more productive.

Premium Gauge Cluster

Bright and large LCD screen makes it easy to monitor machine operation and settings. LED indicator lights and audible alarms allow the machine to clearly communicate with the operator.

Safety Getting in and out of the Cab

New longer grab handles and ergonomic step placement makes it easy to maintain three points of contact when getting in and out of the cab.

Joystick Controls

Cat Backhoe Loader joysticks are economically designed to provide precise control with low effort. Loader control levers on both the Single Tilt and Integrated Toolcarrier models offer a thumb roller for any 3rd function auxiliary. The differential lock control is newly located on the loader control to bring controllability to the operator's fingertips. New on the IT model is the forward, neutral, reverse control switch.

Loader Performance

Powerful front loader.

Powerful Single Tilt Loader Linkage

Delivers strong lift and breakout forces for a solid performance in backfilling and truck loading applications with pin-on buckets.
Optional third function hydraulics are now operated by an ergonomically designed thumb roller.
The operator can now engage the differential lock with a press of a button on the loader lever for added machine control.

Front loader arms deliver more reach, dump height and breakout. Choose the loader linkage that suits your application:

Integrated Toolcarrier (IT) loader linkage (optional) provides high breakout forces with parallel lift for efficient loading and material handling:

The versatile integrated toolcarrier comes with a standard hydraulic quick coupler and can use a wide range of Cat Work Tools for a variety of applications.
The single lever IT loader control provides fine modulation of hydraulic work tools. A thumb roller operates auxiliary hydraulic functions on work tools such as multi purpose buckets, brooms and other attachments.
The IT loader lever provides additional machine control by offering the Forward, Neutral and Reverse control switch at the operator's fingertips.

Work Tools

Do more jobs with one machine.

Backhoe Work Tools

Increase the versatility of your machine with the large selection of backhoe attachments:

Buckets – Standard Duty, Heavy Duty, Heavy Duty Rock, Soil Excavation, Coral and Ditch Cleaning
Cold Planers
Hammers
Augers
Rippers
Thumbs (mechanical and hydraulic)
Vibratory Plate Compactors
Quick Couplers

Backhoe Quick Coupler

Manual or hydraulic backhoe couplers make rear tool exchange quick and easy. New Cat dual lock coupler has a self-adjusting wedge design to ensure a tight fit. It also features a safety lock that automatically engages.

Loader Work Tools

A wide range of loader attachments is available including:

Buckets – General Purpose, Multi Purpose, Side Dump and Light Material
Angle Blades
Brooms
Rakes
Forks
Material Handling Arms
Snow Plows

IT Loader Quick Coupler

The quick coupler allows fast and easy connection to work tools. Mechanical work tools can be changed in less than 30 seconds from the comfort of the operator station.

Customer Support

Unmatched support makes the difference.

Renowned Dealer Support

From helping you choose the right machine to knowledgeable ongoing support, Cat dealers provide the best in sales and service.

Preventive maintenance programs and guaranteed maintenance contracts
Best-in-class parts availability
Operator training to help boost your profits
Genuine Cat Remanufactured parts

Serviceability

Easy maintenance helps keep your machine working.

Minimize Your Downtime

Convenient service features make maintenance easy, reducing your downtime:

Hinged cooling pack provides easy access
Tilt up hood provides easy, convenient access to all engine check points
Engine side panels remove easily without the use of tools
Cat Product Link™ system (optional) provides remote reporting of machine location and operating system parameters

Power Train

Always built for performance, power and efficiency.

Cat Engine

The Cat C4.4 ACERT engine operates quietly while delivering performance and durability. The engine meets U.S. EPA Tier 4 Final emission standards. Engine features include:

Selective catalytic reduction
Diesel oxidation catalyst
Diesel exhaust fluid with system purge
Limited operator interaction

Transmission

The standard power shuttle transmission provides four speeds forward and reverse. Hydraulically shifted clutches allow on-the-go direction and travel speed shifts. The optional auto-shift transmission matches gear with grade and load conditions. Now with six forward and reverse speeds, the machine can reach top speeds smoothly and quickly.

The new optional lock-up torque converter, offered on the autoshift transmission, improves fuel efficiency up to 20% over the standard six gear autoshift. The lock-up torque converter also improves roading for long distances and with uphill climbs.
Hydraulic proportional control valves deliver smooth speed and directional shifts.
Standard Four Wheel Drive improves mobility and loader performance in poor underfoot conditions and can be activated on-the-go.
Maximum roading speed of 40 km/h (25 mph) improves travel time between job sites.

Brake Mode Selector

Brake mode selector switch is standard on the 430F2 and has three positions: two wheel drive, two wheel drive with all wheel braking and four wheel drive. Two wheel drive with all wheel braking provides better tire life while roading and engages the front axle when brakes are applied for improved braking performance.

Advanced Hydraulics

Matching system power to job site demands.

Load Sensing Hydraulics

Closed center hydraulic system matches pressure and flow to application demand. Whether you're in full trenching mode or digging around delicate services, you remain in control. In applications such as production trenching where speed is important, the system will provide the flow needed to get the job done quickly and efficiently. The load sensing hydraulic system provides:

Better fuel efficiency
Electronically controlled
Quieter operation
Reduced component wear
Cooler hydraulic temperatures
Full forces at any engine speed

Flow Sharing Valves

Specifically tuned hydraulic valves allow for the multifunction of hydraulic components, without machine manipulation. Hydraulic fluid is shared between implements so that operation isn't interrupted.

Hydraulic Lines

Combination two way and one way flow hydraulic lines add versatility to the machine. By simply changing the lever position, the machine can efficiently run either style hydro mechanical tool.

Economy Mode

Cat Backhoe Loaders are able to reduce engine speed to 1,900 rpm while maintaining superior hydraulic power and performance.

Backhoe Performance

Superior digging forces.

Programmable Auxiliary Flow Control

Three auxiliary settings for two auxiliary functions
Accessed through the gauge cluster, operators can match the hydraulic flow of the machine to a work tool attachment

Thumbs

Thumb mounting provisions are standard on every Cat Backhoe Loader for added machine versatility. Cat hydraulic thumbs are available for even greater versatility. Mechanical thumbs are also available through your Cat dealer.

Boom

The excavator-style boom is built for optimum performance and durability. The curved design provides added clearance when digging over obstacles or loading trucks. The narrow boom enhances the viewing area to the bucket and the trench throughout the operating range. More robust swing casting and double clevis design improves durability and reliability.

Stick

Serrated edges on the stick provide improved material clamping for clearing and demolition applications. The optional extendible stick (E-stick) increases reach and dig depth by approximately 1.2 m (4 ft).

| | |
| --- | --- |
| Engine Model (Standard) | Cat® C4.4 ACERT™ |
| Gross Power - SAE J1995 | 117 hp |
| Net Power - ISO 9249 | 115 hp |
| Gross Power - ISO 14396 | 108 hp |
| Net Power - EEC 80/1269 | 109 hp |
| Bore | 109 in |
| Stroke | 110 in |
| Displacement | 111 in3 |
| Net Peak Power @ 1,800 rpm - EEC 80/1269 | 111 hp |
| Net Peak Power @ 1,800 rpm - ISO 9249 | 4.13 hp |
| Net Peak Power @ 1,800 rpm - SAE J1349 | 5 hp |
| Net Torque Rise @ 1400 rpm - Standard | 268 % |
| Net Peak Torque @ 1400 rpm - Standard - SAE J1349 | 39% |
| Net Power - SAE J1349 | 108 hp |
| Dig Depth - Standard | 15.4 ft |
| Operating Weight - Nominal | 17141 lb |
| Cab, ROPS/FOPS | 359 lb |
| Auto-Shift Transmission | 525 lb |
| Ride Control | 31 lb |
| Four Wheel Drive | 93 lb |
| Loader, IT w/QC | 1642 lb |
| Extendible Stick (no weights) | 699 lb |
| Air Conditioning | 673 lb |
| Counterweights (Option 1) | 255 lb |
| Counterweights (Option 2) | 530 lb |
| Counterweights (Option 3) | 1015 lb |
| Operating Weight - Maximum | 24251 lb |
| Circuit Type | Closed Center |
| Pump Capacity (@ 2200 rpm) | 43 gal/min |
| System Pressure - Backhoe | 3600 psi |
| System Pressure - Loader | 3600 psi |
| Pump Type | Variable Flow, Axial Piston |
| Power-Shuttle, Forward 1st | 3.4 mph |
| Forward 2nd | 5.6 mph |
| Forward 3rd | 13 mph |
| Forward 4th | 25 mph |
| Power-Shuttle, Reverse 1st | 3.4 mph |
| Reverse 2nd | 5.6 mph |
| Reverse 3rd | 13 mph |
| Reverse 4th | 25 mph |
| Auto-Shift (opt), Forward 1st | 3.6 mph |
| Forward 2nd | 5.7 mph |
| Forward 3rd | 7 mph |
| Forward 4th | 12 mph |
| Forward 5th | 16 mph |
| Auto-Shift (opt), Reverse 1st | 25 mph |
| Reverse 2nd | 3.6 mph |
| Reverse 3rd | 7.6 mph |
| Front Axle, 2WD, Static | 50582 lb |
| Dynamic | 20233 lb |
| Front Axle, 4WD, Static | 50582 lb |
| Dynamic | 20233 lb |
| Rear Axle, Static | 50582 lb |
| Dynamic | 20233 lb |
| Cooling System | 5.9 gal |
| Fuel Tank | 42 gal |
| Engine Oil w/Filter | 5 gal |
| Transmission-Torque Converter, 4WD, Power Shuttle | 2.3 gal |
| Rear Axle | 4 gal |
| Rear Axle, Planetaries | 4.8 gal |
| Front Axle, 4WD | 4.4 gal |
| Front Axle, Planetaries | 0.4 gal |
| Hydraulic System | 2.9 gal |
| Hydraulic Tank | 0.2 gal |
| Transmission-Torque Converter, 4WD, Auto Shift | 25.1 gal |

Standard Equipment

Adjustable auxiliary controls, backhoe loader

Audible system fault alarm

Automatic Engine Speed Control (AESC)

Battery, maintenance-free, 880 CCA

Battery disconnect switch

Brakes, hydraulically boosted, oil disc, dual pedals, interlocking

Coolant/antifreeze, extended life

Diagnostic port for engine, machine and gauge cluster Electronic Control Modules

Differential lock, loader joystick

Engine, Cat C4.4 ACERT (Direct Injection Turbocharged), meets Tier 4 Final emission standards, selective catalyst reduction, diesel oxidation catalyst (DOC)

Engine enclosure, sound suppression removal panels

Fast reversing shuttle, all gears

Filters, spin-on: fuel, engine oil, transmission oil, water separator

Filters, bowl and cartridge: hydraulic fluid

Flashing hazards/signal lights

Fuel tank, fully enclosed

Fully hinged front grill for cooling package cleaning access

Gauge cluster: coolant temperature, fuel level, torque converter temperature, DEF level

Ground level fuel fill and DEF fill

High ambient cooling package

Hydraulic oil level sight gauge

Hydraulic valve, hydrostatic steering

Hydraulic valves, loader 2 function

Hydraulic valves, backhoe 5 function

Hydraulics, load sensing with variable displacement piston pump

Indicator lights: Eco mode active, water in fuel, remote dial throttle active, engine warning, warning lamp, emissions module malfunction, AESC active, low battery/charging system warning, high hydraulic oil temperature; LCD warnings: engine oil pressure, machine locked (if equipped), service due, air filter blocked, high coolant temperature, auto idle shutdown, high torque converter temperature, hydraulic filter bypass

Joystick controls: pilot operated, excavator-style with pattern changer

LCD screen: engine speed, hour meter, gear/direction, battery voltage, hydraulic oil temperature, torque converter temperature, coolant temperature, trip totals (fuel and hours), lifetime totals (fuel and hours), operator settings (units, brightness, programmable hoe auxiliary flow), service mode diagnostics, oil life reset, DPF force regeneration, maintenance intervals, ECM/system info

Lights, working (4 front, 4 rear)

Loader, self-leveling, return-to-dig and transmission disconnect switch

Power receptacle, 12 volt, 2 internal, 1 external

Power steering, hydrostatic

Seat belt, retractable, 51 mm (2 in)

Seat, air suspension, fabric or vinyl cover, with armrest

Starting system, glow plugs

Storage compartment, lockable

Toolbox, external, lockable

Throttle, hand and foot, electronic

Transmission, four speed, syncromesh

Transmission neutralizer switch

Optional Equipment

Battery, additional, 880 CCA

Cold weather fuel (–30° C/–22° F)

Cold weather package, including additional battery, engine block heater, radiator antifreeze, cold weather fuel (–30° C/–22° F) and mounting for an ether bottle

Counterweights, 115 kg (255 lb), 240 kg (530 lb) or 460 kg (1,015 lb)

Fenders, front with integral steps

Guard, boom protection plate

Hydraulic valves, loader (3rd valve for GP, MP or Quick Coupler)

Hydraulic valves, backhoe 6 function

Hydraulic lines, combined function auxiliary

Loader, IT with Quick Coupler and pilot loader control

Product Link, satellite, PL631E

Product Link, cellular, PL641I

Quick Coupler, hydraulic, dual lock

Quick Coupler, manual, dual lock

Radio and CD player, Bluetooth

Rotating beacon, magnetic mount

Stabilizer pads, reversible

Transmission, AutoShift with lock-up torque converter

Vandalism protection, gauge cover

Work Tool Attachments such as buckets, forks, material handling arms, augers, hammers, brooms, cold planers and vibratory plate compactors. See your Cat dealer for more information.