CAT® 1-2 TON MINI EXCAVATORS
The new Cat® mini excavators deliver an unmatched operator experience.
With the simple push of a button, operators can switch from traditional pedal and lever travel to stick steer travel, which increases operator comfort, control and convenience
Cruise control allows you to continuously travel without holding the levers or joystick down, with the ability to safely stop the machine in several ways.
Another industry-first for 1-2 ton mini excavators, models with a sealed and pressurized cab are available with air conditioning so you stay comfortable in any condition.
Intuitively designed full color monitors are available on all machines.
Customizable settings enable control of hydraulic performance and responsiveness for different operators and applications.
The new Cat® Mini Excavators are made to dig, but they can do so much more.
Operators will experience up to 65% more lifting over the front of the machine and up to 40% more over the side.
25% more swing torque improves swing performance
The Next Generation machines have improved ability to smoothly perform multiple functions at once, providing even greater control and productivity.
Operators will notice increased travel performance when turning and traveling uphill.
As a standard function on all next generation mini excavator models, blade float allows for easier grading.
1-2 ton Next Generation Mini Excavators can be lifted from two certified points on the ROPS (rollover protection structure)
Next Generation Mini Excavators provide best in class serviceability.
An industry exclusive, the entire cab/canopy on our 1-2 ton models can be tilted up. Enjoy quick, easy access to previously hard-to-reach components for servicing and troubleshooting.
Machine owners and operators can access regular maintenance areas at ground level for quick, easy maintenance on all models.
Longer service intervals will save you money. Spend less money on parts and labor costs and spend more time getting work done.
Save money on repairs. Next Generation Mini Excavators have been designed with more parts commonality across the range, improving time and cost to repair.
Accidents happen. The Next Generation Mini Excavators have been designed with recessed panels to protect against damage and to simplify repairs.
301.5
Starting at $794/month*
Net Power: 21 HP
Operating Weight: 3,913 lb
Dig Depth: 100″
301.7
Starting at $872/month*
Net Power: 21 HP
Operating Weight: 4,222 lb
Dig Depth: 100″
301.8
Starting at $871/month*
Net Power: 21 HP
Operating Weight: 4,222 lb
Dig Depth: 100″
302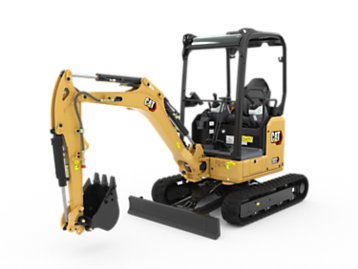 Starting at $993/month*
Net Power: 21 HP
Operating Weight: 4,987 lb
Dig Depth: 101.2″
302.7
Starting at $1,239/month*
Net Power: 23.6 HP
Operating Weight: 6,725 lb
Dig Depth: 106.7″
*subject to credit approval and offer terms*
YANCEY MAKES OWNING OR RENTING A CAT® MINI EASY
RELATED CONTENT
©2023 Caterpillar. All Rights Reserved. CAT, CATERPILLAR, LET'S DO THE WORK, their respective logos, "Caterpillar Corporate Yellow," the "Power Edge" and Cat "Modern Hex" trade dress, as well as corporate and product identity used herein, are trademarks of Caterpillar and may not be used without permission. All purchase pricing shown is based on 0% financing for 24 months and is subject to customer credit approval.